It is by now obvious that this unambitious little blog is going to be a repository for my list-making tendencies, as my ever-increasing writing responsibilities for magazines take hold. So, without further ado, let us plunge into the top 100 of 2008 list. It seems to be the general opinion that 2008 has been a strange year - lots of quality albums but not one to rule them all. Let that not be a stain in the year, however. As is constantly the case, contrary to what the negativity-mongers might spew out, fascinating and heartfelt music is always there, if you know where to look. For the next 100 albums, here's where I think it was, this past year. Let me know your opinions and thoughts about the list as it unfolds!

100. iskald - 'revelations of reckoning day'
Iskald translates literally as "ice-cold", and that's really the best description for what awaits you on 'Revelations Of Reckoning Day'. A young two-piece from Norway, these guys have evolved wonderfully in quality in their mere three years of existence, and while this album doesn't reinvent any wheels, it's a quality slab of mid-paced chilling black metal, with plenty of groove as well as piercing riffage to be found. With songs both in Norwegian and in English and a well-placed armageddon theme to the whole thing, Iskald are making a name for themselves. Count on them to be further up everyone's lists in the following years.
Iskald - 'A Breath Of Apocalypse'
99. helms alee - 'night terror'
Helms Alee is a cool discovery from Hydra Head, but a rather easy one to make as well - it's none other than Ben Verellen from Harkonen (and These Arms Are Snakes for a while back there, too) at the, well, helm of this project, along with two girls who make up the rhythm section. Helms Alee are from Seattle, and it shows. Among the many aspects to their sound, there is an unmistakable touch of the more Sonic Youth-influenced bits of the Seattle sound (proving, for once, that it is still a fertile ground of inspiration!), and that is the secret ingredient that makes all their postrock/Slint-like quietloud parts/occasional sludge/younameit elements come together. It's rock, but with a lot of pop too, the good kind of pop, and a whole lot more besides.
Helms Alee - 'Big Spider'
98. grails - 'take refuge in clean living'
Greatly enriched by Emil Amos' contribution on guitar (he was previously the band's drummer), 'Take Refuge In Clean Living' is yet another step up in the continued elegance that is the evolution of Grails. Listen to it while doing something else and it might pass you by as pleasant background music, but pay attention to the subtle intricacies that go on under the surface and your jaw will drop. From the surprisingly sparse and gracious version of '11th Hour' to the ethnic soundtrack music of 'Take Refuge', Grails surprise and please at every turn. In an age when post-rock means 'we have no vocalist', these people are way beyond that tired classification already.
Grails - '11th Hour'
97. hey colossus - 'happy birthday'
Last years 'Project:Death' got a
higher place on my list
because of its more immediate impact, but 'Happy Birthday' (oh, such a joyful misleading title) deserves the same praise that I always reserve for this south London band. Less openly metal than its predecessor and gone more the way of the drone and the sludge, their sound remains nevertheless very atypical, with their attacks more firmly aimed and calculated. If 'Project:Death' was the mad serial killer with a sledgehammer, 'Happy Birthday' is the insane scientist that takes you in for hideous experiments in his hidden lab. You die anyway, so...
Hey Colossus - 'Are Nice Men'
96. the haunted - 'versus'
Peter is back and all, but they will never write an album like the first one again, okay? Get over it. Shame, however, that they didn't really follow the left-hand path they had started to take with 'The Dead Eye', a fabulous album that fell largely on the deaf ears of The Haunted's less than brilliant fanbase. So, 'Versus' is a step back, but at least a ferocious one. Easily the angriest record they've done since that classic self-titled debut, it wipes the floor with 'rEVOLVEr' (and obviously with the crappy Marco Aro-fronted borefests) and shows that, even when not at their very best, The Haunted are still head and shoulders above the general throng.
The Haunted - 'Moronic Colossus'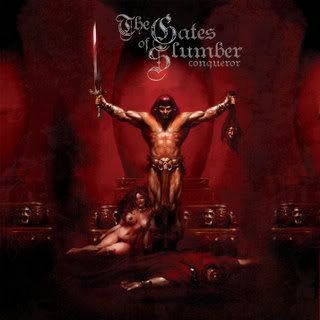 95. the gates of slumber - 'conqueror'
True fucking metal! The Gates Of Slumber sound like Omen would sound if they'd be around today, except with rougher vocals and a thicker overall sound. If it's strangely satisfying to have an album like this come out in 2008, to have an album like this of enormous quality come out on a label like Profound Lore is satisfaction threefold. One for the true headbanger.
The Gates Of Slumber - 'Conqueror'
94. kehlvin - 'holy cancer'
And then, all of a sudden, Switzerland is the hotbed of European metal. From Knut to Zatokrev, from Vancouver to these guys, if you want your music to drag you through the mud with a boot on your face while maintaining a strange sense of beauty about it all, Helvetia is the place to go. 'Holy Cancer' is post-hardcore taken to a violent extreme, it's noisy, it's abrasive, the vocals are shouted like there's no tomorrow for anyone's throat and they don't even resist throwing in some weird droning now and then. Crushing!
Kehlvin - 'God As A Mere Intentinal Object'
93. kowloon walled city - 'turk street'
One of the year's most surprising releases, Kowloon Walled City appeared out of nowhere (well, San Francisco) sporting the name of the Hong Kong enclave that's been overrun by crime. Similarly dirty, this mind-blowing EP will grab you quickly by its furious immediate impact, spearheaded by Scott Evans' steel-lunged vocals. The whole thing was recorded in a day (!) and it's entirely free, from their website. Go get it.
Download the full EP for free
92. enslaved - 'vertebrae'
"What, already??", you protest. Yes, 'Vertebrae' is collecting album-of-the-year accolades left and right throughout the world's extreme music media, but unfortunately it hasn't convinced me to that extreme. It is a great album, surely, and fully deserves its place on this list. However, after suffering the vast and deep effect of the magic of 'Isa' and 'Ruun', both on record and on stage, 'Vertebrae' just feels way too thin and like trying too hard. Basically, if you haven't heard it yet, it's Enslaved gone the way of the prog. Still miles above most (post-)black metal coming out of Norway these days, but Enslaved's standards are very, very high, and this falls a little beneath them. Judge for yourself - if you can stomach that solo in 'Ground', then this is probably your album of the year.
Enslaved - 'Ground'
91. misery index - 'traitors'
Misery Index haven't given us one second of rest in all their releases so far, so why should 'Traitors' be any different? Energized by the new blood of drummer Adam Jarvis and guitarist/vocalist Mark "Lo Sneek" Kloeppel, who have contributed a great deal to the songwriting, veterans Jason Netherton and Sparky Voyles deliver the band's best album yet. Shoving down your throat with great force everything that's wrong in the world, Misery Index are a very serious contender within the grind/death field. Make sure you catch them live, where they slay even more!
Misery Index - 'Partisans Of Grief'